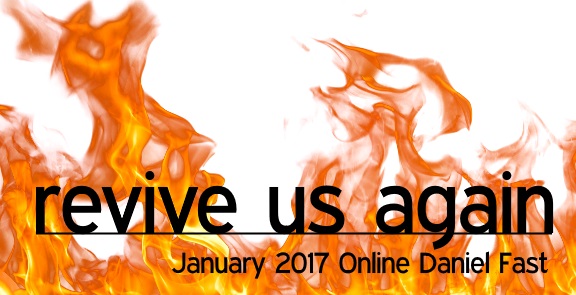 Every January for the past six years, I've held an online Daniel Fast through my website. And every year, God has moved in mighty ways. This past January was no exception.
Nearly 4,300 believers participated in the January 2017 Online Daniel Fast, which was held January 1-21. Our theme for the fast was, "Revive Us Again." Men and women from around the world set aside the first three weeks of the year to focus on the Lord. Together, we cried out to God for revival – in our personal lives, our families, our churches, our communities, and our nations. In addition, nearly 300 people committed to take a small group through the fast and signed up to be a team leader.
Everyone who registered for the fast received weekly emails of encouragement and support. The emails provided helpful resources, such as Daniel Fast friendly recipes. I also sent out daily videos for the entire fast with the assistance of my wonderful co-host and husband, Justin (you can view the videos on my YouTube channel). Through the videos, we explored God's prescription for revival as spelled out 2 Chronicles 7:14:
"If my people, who are called by my name, will humble themselves and pray and seek my face and turn from their wicked ways, then I will hear from heaven, and I will forgive their sin and will heal their land."
What a privilege it was to partner with such an army of prayer warriors in seeking the Lord! Following are just a few testimonies of how the Lord worked:
"The fast was an awesome experience for my wife and me." – Corey
"I want you to know how much I appreciated your videos every day. They were so helpful and certainly kept me encouraged. Also, I ordered your book, The Ultimate Guide to the Daniel Fast. All the meals I have made have been delicious. Your recipes are fantastic! I will be changing my eating patterns after the fast and use your recipes all year long." – Debbie
"This was the first time I've done a Daniel fast since being a Christian (11 years). I'm so glad I embarked on it. Your website was a tremendous support." – Mary
"I've attempted this type of prayer and fasting on my own but would always fail. When others are doing it with you, you are strengthened." – Dorene
"My husband and I have grown so close through the fast. Seems like we're on our honeymoon after 36 years!" – Pam
"Thanks for a great 21 days of leading us with encouragement to persevere!" – Roger
"This was my second Daniel Fast. I relied on your book, The Ultimate Guide to the Daniel Fast, and emails for information and encouragement. I'm so amazed at the power of fasting and prayer together! Thank you so much for all your help." – Rhonda
"I made it 21 days. When I was weak, the Lord gave me strength to continue. God also intervened in my cousin's life. He got hit by a car and suffered a broken femur. But the miracle is that he's alive!" – Brenda
"I've always struggled with fasting. I would find that I was tired and not very effective in prayer. I wasn't sure how I would cope on this fast. But I was amazed how the gift of self-control grew in me as I prepared my children's meals. I wasn't even tempted to try!" – Suzanne
"I couldn't have entered 2017 in a better way. I stand in awe of what God has done in my life and what He is still going to do for all of us who have endured the fast." – Lauren
If you missed being a part of the January 2017 Online Daniel Fast, be sure to sign up for my Ultimate Daniel Fast monthly newsletter to stay informed about future fasting events.